Our Software
BRONZE EDITION
Top Features:
Predefined Templates
Signature Acquisition
Database View
Magnetic Encoding Support
Internal Document Database Photo Connection
SILVER EDITION
Top Features:
QR Codes
Document Password
Protection
CSV and Excel Upload, which allows for no manual data entry
GOLD EDITION
Top Features:
Local MS Access and SQLite Connection
Photo on Database
FaceCrop Tool for Face Recognition
2D Barcodes
PLATINUM EDITION
Top Features:
Smartcard Plugin
Fingerprint Acquisition
Multi-Layout Card Designs
Autoprint
Conditional Printing
Operation Logs
Diamond Edition
Top Features:
DESFire
Web Print Server
Net License up to 16 Pcs
Download the Demo Version
Bodno ID Card Software Program for PC & MAC - Design & Print Photo ID Cards and Gift/Loyalty Cards - Bronze Edition
Windows Download
MacOS Download
Manual
Software In Use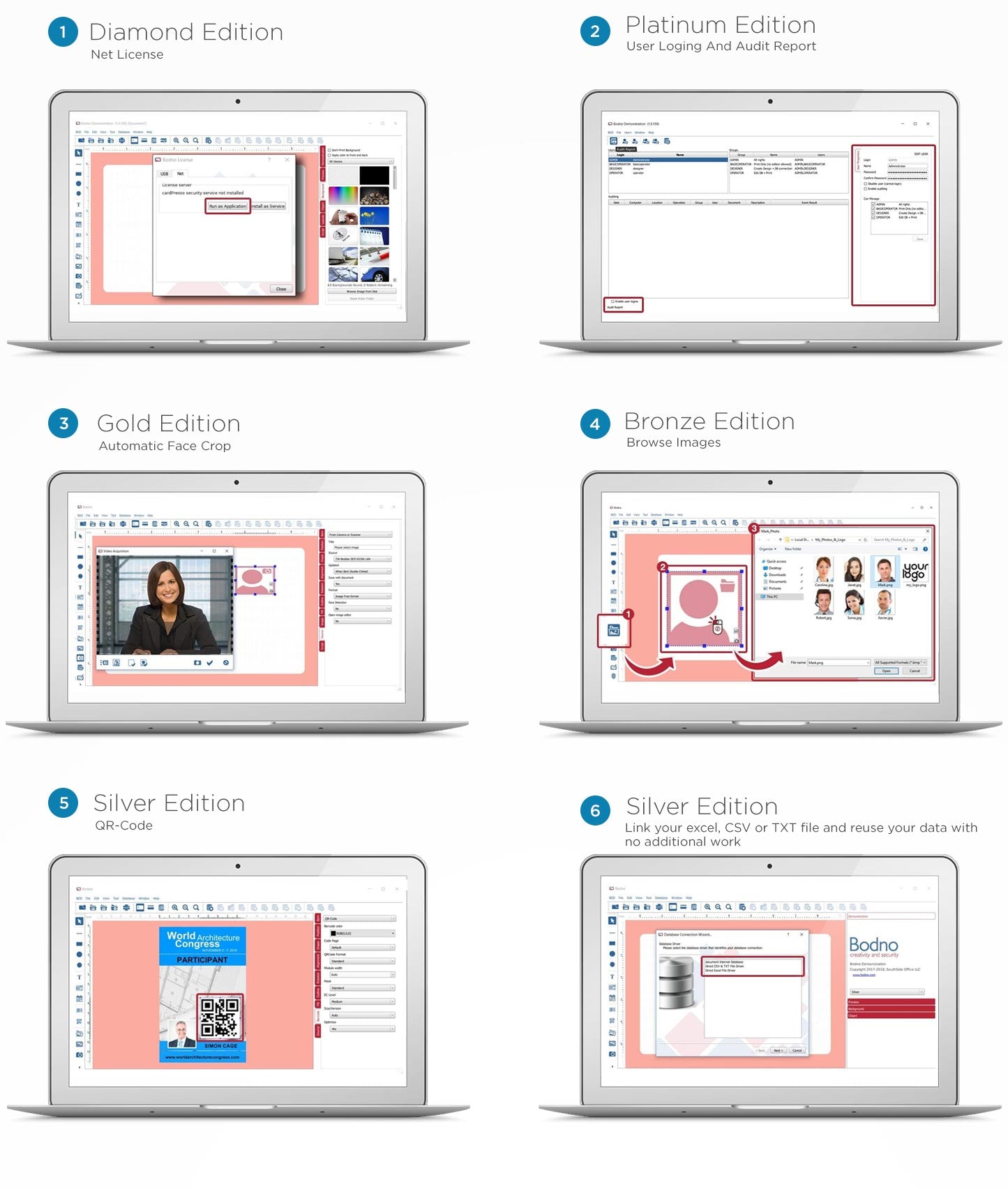 Reviews
I upgraded from Bronze Edition to the Silver Edition. I can now import all my info from EXCEL CSV and it auto creates everything for me. The design features are similar to Bronze
Johnwood Schools
1 month ago
This is the second type of printing machine we have ordered. Previously we were using a different one. I definitely see a difference between the two. Badgy100 is more clear. It is easy to use. Firstly setting up the machine is very easy, then install the driver on your laptop/desktop and start printing. The resolution is definitely better than the printer we have used before.
Guest
3 months ago
Pricey, but works great for our school district. I do wish you could turn on button labels, as the icons can be a guessing game, since they aren't similar to Windows / Microsoft convention...
Elliot
7 months ago
After testing out Alphacard, I found Bodno software much easier to use. The flash drive came in the mail quickly and I was able to get it installed very easily. Jack from technical support gave me a introduction to the software and showed me how to create a template. He was understanding of my needs and a lot of help. So far a great experience!
Customer
2 days ago
Bodno Software Upgrade
BRONZE

Silver

Gold

PLATINUM

DIAMOND

General

Full Setup on USB Key
USB Key Protection
Digital Manual (PDF)

Tools Image

DirectShow Image Acquisition
WIA & TWAIN Image Acquisition
Clipart & Shapest
Variable Objects (Print Date, Print Counter,...)
Built-in Image Editor
Card Templates
Signature Acquisition
Barcodes ID
QR Code
Barcode 2D
Auto Face Detection in Live Acquisition
Automatic Face Crop
Image Acquisition through camera SD
Fingerprint Acquisition
Users Allowances & Operation Logs (audit report)
Customized Features through Script

USER INTERFACE

Text and Image Editing in Card Design
Database View
Production Mode
Encoding View
Multi-layout Designs

PRINT

Print Spooler Management

(Card by Card, All printer)

Front & Back Printing
Batch Printing
Ethernet Printers Support
Conditional Printing
Overlay/UV/F Panel Management
Auto-print

(Automatic print by DB update)

Web Print Server

DATABASE

Internal Database With Photo Connection
Browse & Find Records
XLS, XLSX, CSV & TXT connection
MS Access & SQLite with photo field
Search (query) Records
OLE Objects & Photo on Database Records
ODBC Connection to External Database

ENCODING

Magnetic Encoding
Contact Smartcard Plugin

(Run external app)

Contact Smartcard Encoding
Contactless RFID Encoding
Internal & External RFID Encoder Support
Mifare DESFire (including NFC)
Mifare CLASSIC & Ultralight (including NFC)

MISCELLANEOUS

Free Software Update
Remote System Edition Upgrades
Document Password Protection
Net License up to 16 PCs belonging to the same scope and sub-net

Product Reviews

Average Ratings
No reviews.

No reviews.
No reviews.