Dual-sided ID card printers are a valuable investment for comprehensive and efficient ID card printing. They provide a convenient and efficient solution for producing professional-quality ID cards. If you'd like to know more, check out our more extensive guide:  Advantages of Using a Dual-Sided Printer. Below, we review some of our top selling Dual sided ID printers. Overall we'll look at each printer's user friendliness, versatility, reliability, cost-effectiveness, and security feature capabilities. 
Magicard D
By far one of our top best selling dual sided ID card printers is the Magicard D. One of the reasons this is one of our top sellers is that it's a fantastic option for a range of small to medium sized organizations, businesses, and schools. It quickly prints high quality ID cards with ease and, to top it off, it's quite affordable. While similar in design and functionality to another one of our top sellers, the Magicard 600, the Magicard D ID Card Printer is a more cost effective alternative if a pricier printer is not in the cards for a budget.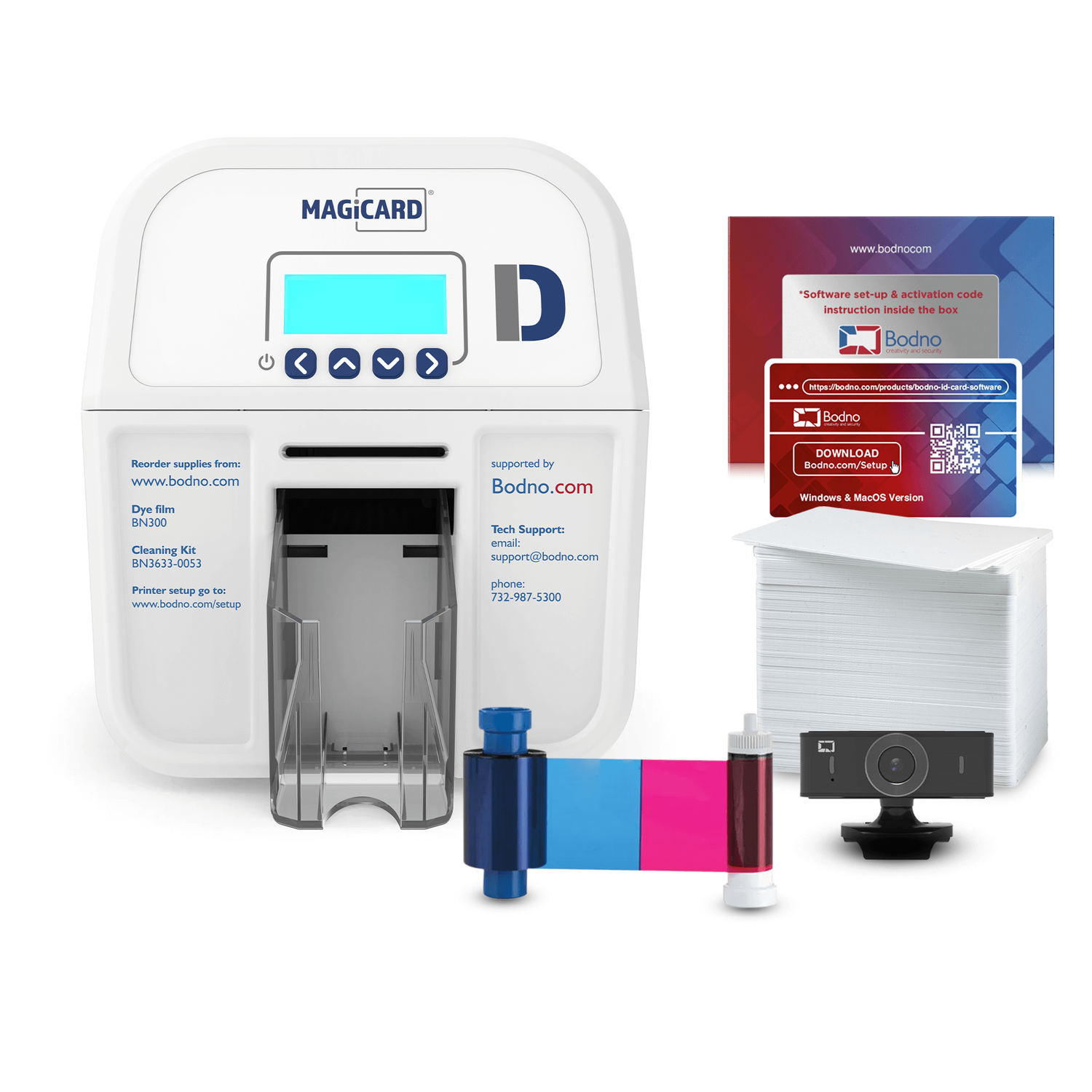 User Friendliness
The Magicard D printer is the epitome of user-friendliness and efficiency. Its array of features, like edge-to-edge and full-color printing, make it a breeze to use and set up. With a remarkable printing speed of up to 300 cards per hour, producing high-quality ID cards has never been faster or more convenient.
Print Quality
One standout feature of the Magicard D is its ability to deliver superior printing quality. Boasting a wide color spectrum, it produces vibrant and richly colored prints, perfect for photographs, corporate logos, and other images on ID cards. The sharp detail and clarity ensure professional-looking results, even with small font sizes, making it ideal for organizations requiring precise text on their cards.
Security Features
A signature patent of Magicard ID Card Printers, this printer's Holokote technology adds an extra layer of security, creating a tamper-proof seal on each ID card. With the option to include a custom hologram of your company logo or other identifying images, you can enhance security measures for your business or organization.
While magnetic stripe and smart card encoding features are available at an additional cost, the Magicard D printer itself ensures a solid investment with its full 3-year warranty. Rest assured, you're getting a reliable and efficient ID card printer that will serve your needs for years to come.
Magicard D Review Quick Summary: 
All in All, the Magicard D printer is the cost-effective, high-quality choice for businesses and organizations seeking a dependable solution for ID card printing. Its exceptional features, security technology, and warranty make it a top-notch option, no matter the scale of your operation. 
Evolis Primacy 2 
One of the reasons the Evolis Primacy 2 is a top selling printer is because it offers extensive customization options, making it a perfect choice for organizations with medium to large card printing requirements. Its large input/output hopper allows for hands-free printing, saving valuable time and effort and resulting in increased efficiency and overall satisfaction.
User Friendliness
The Evolis Primacy 2 is known for its user-friendly design. It offers an intuitive interface and straightforward setup process, making it easy for users to operate even without extensive technical knowledge. The printer's user-friendly features and functions contribute to a smooth printing experience, allowing users to efficiently produce high-quality ID cards and other printed materials. 
Print Quality
Primacy 2 is an ideal choice for large batch printing, thanks to its impressive 100 card input and output hoppers, ensuring continuous production without interruptions. This printer boasts remarkable speed, taking only around 13 seconds for full-color cards and a mere 5 seconds for black and white cards.
To achieve stunning color prints, Primacy 2 utilizes sublimation technology, while for monochrome cards, it employs thermal transfer. With a fast printing rate of up to 280 cards per hour, this printer delivers a perfect blend of quality and quantity. The high-resolution printing, backed by its colorimetric profile, ensures that each card is produced with outstanding clarity and precision. Whether you need vibrant, full-color cards or sleek monochrome designs, the Evolis Primacy 2 is designed to meet your demanding printing needs efficiently and effectively.
Security Features
The Evolis Primacy 2 is a powerhouse when it comes to security features, offering a versatile selection tailored to your specific needs. Whether you require magnetic strips, contact, or contactless chip cards, the Encoding feature allows you to print and encode your preferred smart cards seamlessly.
For added durability and security, the Lamination module offers a choice of varnish, patch, or even the option to create custom holograms. The Double Overlay layer ensures optimal card durability, providing abrasion protection and enhanced wear without the need for a standard YMCKO ribbon, saving both time and money. To add an extra layer of security, the UV Effect feature creates an overlay only visible under UV light, further fortifying your ID cards.
For precision and data accuracy, the Scanner feature allows you to double-check printed data and maintain a print history. Finally, the Data Rewrite feature offers enhanced peace of mind, ensuring that no data remains accessible on either the card's memory or ribbon after printing. With Kineclipse rendering printed information illegible on the ribbon and digital erasing ensuring complete data erasure, your ID cards are safeguarded to the highest degree.
Evolis Primacy 2 Review Quick Summary:
With this printer, you don't have to compromise between quality and quantity. Its quick and reliable performance, coupled with accessible user support, ensures a seamless printing experience that delivers both top-notch quality and high productivity. The Primacy 2 is designed to meet your diverse printing needs with ease, providing a flexible and efficient solution for your organization.
Magicard 600
With its Premium dual sided upgrade, the Magicard 600 is another one of our best selling ID Card printers with dual-sided capabilities. It's perfect for mid to large sized business, schools, and other organizations looking for swift turnaround without compromising quality.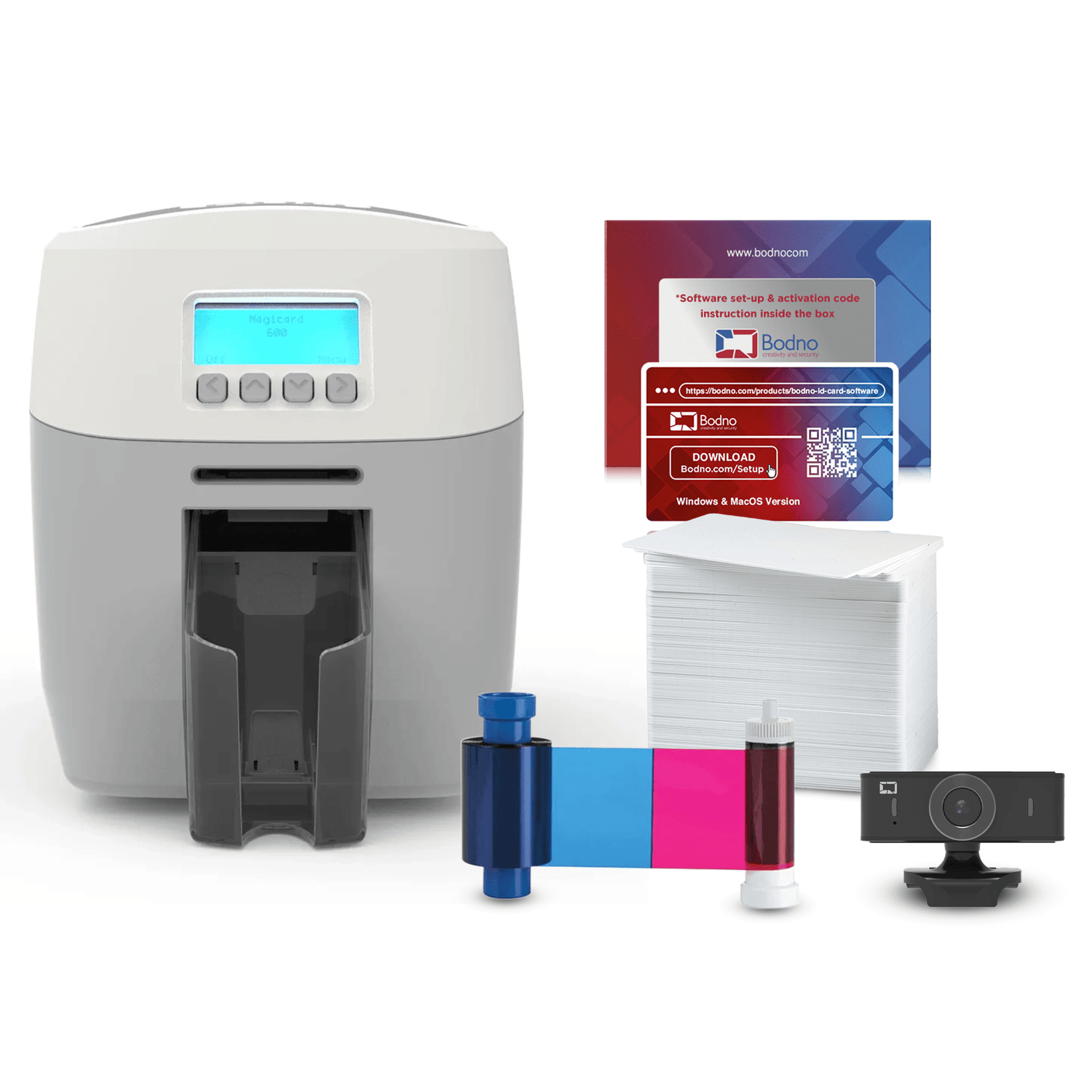 User Friendliness
The printer boasts an incredibly user-friendly design and seamless Wi-Fi connectivity, enabling you to start printing cards effortlessly right after unboxing. While it comes with 10 pre-loaded template card designs, its true strength lies in its exceptional customization capabilities. You can easily add photos, symbols, and logos to each card, all enhanced by optimized color profiles that ensure sharp letter detailing and vibrant, eye-catching colors. With this printer, achieving personalized and professionally crafted cards is a breeze, making it an excellent choice for any printing project.
Print Quality
The Magicard 600 is both fast and high quality, using a cutting-edge reverse transfer solution with a remarkable 600x300 dpi print engine. This advanced technology ensures every card features crisp letter detailing and vibrant, rich colors. The Magicard 600 can produce a full-color card in a mere 18 seconds, translating to an impressive rate of 200 cards per hour. If you require monochrome printing, the speed is even more astounding, delivering 720 monochrome cards in just one hour, with each card printed in a swift 5 seconds.
Security Features
The Magicard 600 ID card printer offers advanced security features that safeguard both business and cardholder data. Firstly, the printer implements a digital shredding protocol, ensuring that no data is stored on the printer after use. Once the data is utilized for the print job, it undergoes fragmentation, rendering it irrecoverable, thereby preventing any potential data theft.
Secondly, all Magicard printers, including the Magicard 600, come equipped with their patented HoloKote® technology. This innovative feature enables the printing of secure watermarks onto ID cards or badges, with the option to customize each watermark. The printer provides storage space for up to 10 custom watermarks, enhancing the overall security and uniqueness of the printed cards.
Thirdly, to safeguard the printer from external threats, the Magicard 600 ID printer offers threat security scans using the renowned Nessus Pro, a widely deployed security technology worldwide. Regular device security updates ensure the printer and software are consistently protected, maintaining the system's overall security.
Magicard 600 Review Quick Summary:
The comprehensive dual-sided Magicard 600 ID system comes equipped with all the essential components needed for fast, quality, and efficient high-volume printing.  Its user-friendly LCD screen display and flexible connectivity options makes set up and integration a breeze. Lastly, and importantly, it offers an array of important security features for ID cards
Zebra ZC350
The Zebra ZC350 is a quality, sturdy, and reliable printer that can handle difficult printing problems. It has an added bonus of a modern, slim design and is perfect for any organization small to large looking for a fast and efficient ID printer.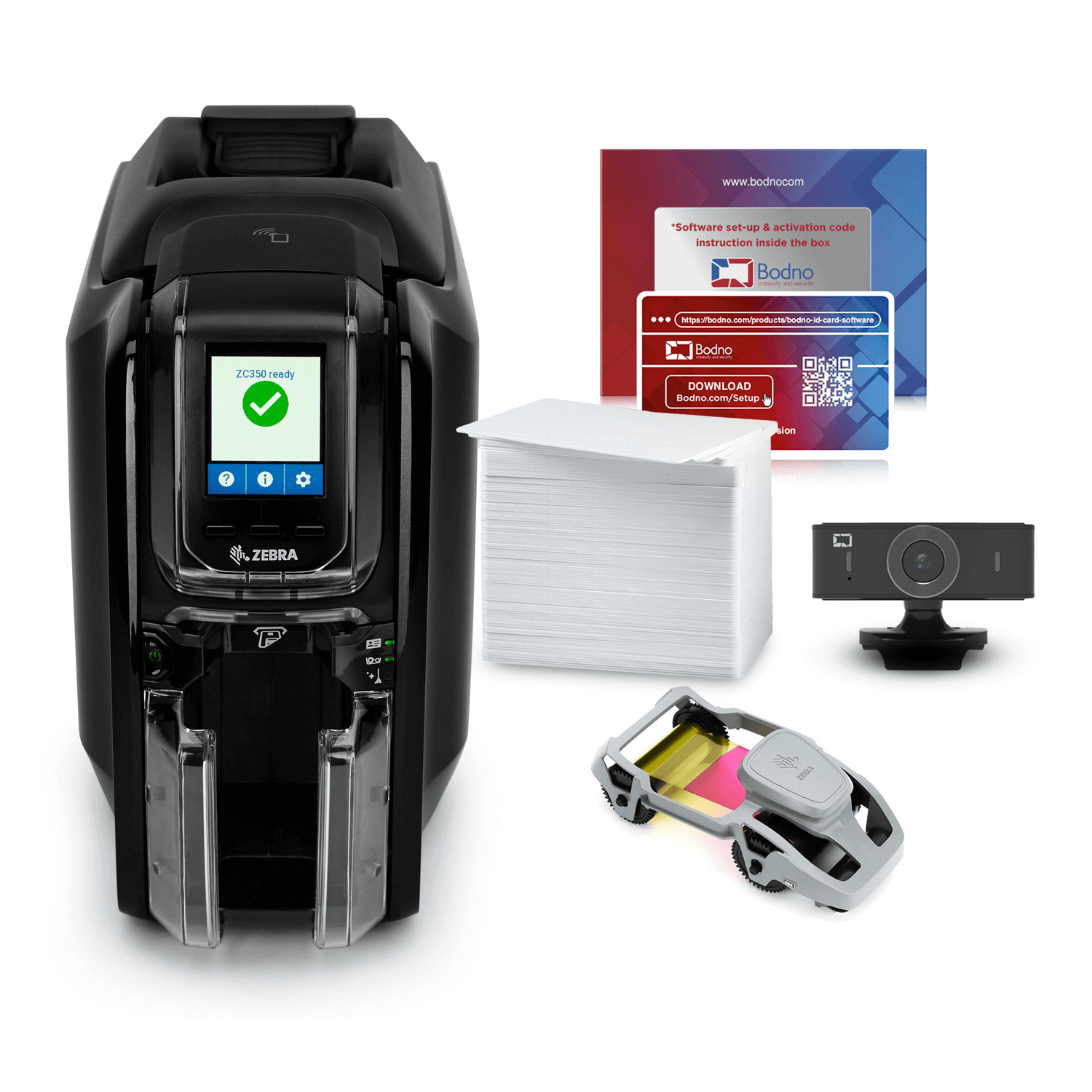 User Friendliness
Its intuitive visual interface allows for effortless printing with a simple touch of the screen. You can preview your card before printing, eliminating the need for test runs and saving both time and money. Installation is a breeze – plug it in, and you're good to go. Loading and unloading cards have never been easier with the redesigned hopper and saloon-style output doors, offering maximum simplicity. Ribbon reloading is stress-free – just place it in the slot, and you're ready to print. The snug-fit design ensures the ribbon is always installed correctly. Experience unmatched speed, ease, and efficiency with the ZC350 printer.
Print Quality
With the ZC350 printer, get ready to receive exquisitely printed ID cards, employment badges, or seasonal passes in mere minutes. Its exceptional 300 dpi print resolution ensures stunning visuals exactly as you desire, without any painstakingly long waits. Enjoy the flexibility of full-color or monochrome printing on one or both sides of the card, granting you complete control over your printing needs. Experience swift and high-quality printing with the ZC350 for all your card requirements.
Security Features
The ZC350 supports magnetic stripe, proximity to contact, and contactless encoders. With the new ZIP pocket and Software Development Kits (SDKs), adding your own contact or contactless encoders becomes effortless. Advanced security features, including government-grade AES data encryption, keep your sensitive data secure during printing, protecting account numbers and more. Printer-to-host authentication ensures printing only from authorized applications or devices, providing an added layer of security.
Zebra ZC350 Review Quick Summary:
The Zebra ZC350 is a high-performance ID card printer with remarkable print speeds and advanced encoding and security features. Its user-friendly visual interface makes complex tasks easy, providing a modern solution for challenging printing needs. It also offers customizable encoding for magnetic strip, proximity, and contact, supporting credit, debit, loyalty, rewards, identity cards, and more!
Check out More of Bodno's
Best Sellers
, complete packages and more!